7 August 2010
Author: Giorgos Lazaridis
Men Of War Game Console
---
---

Worklog - From the breadboard to a PCB (Octomber 3 2010)
---
I will not make a PCB, instead i will use a pre-drilled proto board for this. If i will make a PCB, i will make a complete one with all the buttons and the joystick, having the shape of the controller. Until then, i will test it on a simple pre-drilled PCB...
| | | | |
| --- | --- | --- | --- |
| | | | |
| I will use this old PS2 wire which was ripped from a cannibalized keyboard | And i wiil turn this breadboard circuit (the controller)... | ...and this one (the timer)... | ...into this. |
| | | | |
| --- | --- | --- | --- |
| | | | |
| Then, i made 3 LED pushbuttons, as i have described in my previous project... | I connected these buttons together | and then i interfaced them onto the PCB | Finally, i connected the buzzer for the timer. The PCB is ready |




Time to fix the buttons
---
Beginning with the LED pushbuttons:
| | | |
| --- | --- | --- |
| | | |
| I cut a plastic piece, about 2x2cm in size. | And with the router, i routed a U inside | This is supposed to be the spacer for the LED buttons |
| | | |
| Just a drop of general purpose glue is enough | I fixed it onto the backside of the housing, in the center of an LED pushbutton hole | I did this for all 3 LED pushbuttons |
| | | |
| --- | --- | --- |
| | | |
| Then i took 4 5mm LED panel bases | With the cutter, i removed the fixing keys and i shortened them a little bit | After inserting the LED pushbuttons to the backside, i placed the LED covers in front... |
Looking good, isn't it?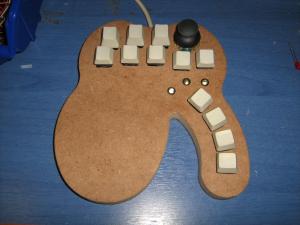 Finally, the back cover
---
First, i had to fix the edges
| | | |
| --- | --- | --- |
| | | |
| With a very fine sand paper, i sanded the edges of the cover that are going to be visible | Using this mini-torch, i "burned" the edges so that they will become clear again | This is the result that i am looking for |
Remember the reason why i use a transparent cover instead of an opaque? The reason is actually that i want to light the edges and maybe i will manage to have a nice effect...
| | | |
| --- | --- | --- |
| | | |
| I got myself some high brightness SMD blue LEDs for the lighting purposes | I soldered a resistor to the anode of three of them | And then i connected the cathodes together with a long wire |
| | | |
| One wire is connected to the other side of the resistor | And using a heat-shrink tube i insulated the leads | I did this for all 3 LEDs, and here is my LED strip! |
But how am i going to light the edges of the cover? Where should i place the LEDs? How deep? Well, trial and error is the answer...
| | | |
| --- | --- | --- |
| | | |
| I had another piece made, that had gone somehow wrong, which i used for my tests... | After several drillings in different positions with different depths... | I found the 3 best positions to place my LEDs, and i drilled the cover accordingly |
---
---
Comments
---
This is such a great project. I am truly inspired. Very cool. Love the site too. Please never stop showing us your great projects.
---
Hi there,can you make a code for PIC16F876A or simular of it,because I don't have that microcontroler used in the project. :(
---
Well, "lol", as i always, say "Use all your abilities to win". After all, you can get yourself a customizable controller from the market. And then, i hope i meet you in the battlefield... preferably at the opposite team... ;) ;) ;)

PS: This is not cheating. I don't use a bot to do something that i can't, faster or more accurate. I mean, hey, be wise and gather all the shortcuts that you need close. You can do that. You can customize your shortcuts... You can use the shift key, the control, double clicks...Everything. Is this so hard to do? Or do you miss the LED effect that i have???
---
man you are such a nerd, go, get a wife children and a life.
with this frankenstein like thing you have clearly an unfair advantage
you super nerd hardwarecheater.
---
Oops! Just realized I was reading the comments in backwards chronology! My bad! Sorry, nevermind my last comment!
---
Just ran across your site! Thank you! Very informative! A note to Marc Leonhart (since nobody answered him; AND although I haven't studied all the specifics): I believe an input device like this could do anything you would like it to do. It is custom made. I'm sure it could be modified to any purpose!
---
brannen. read the worklog. its a construction from a scratch.
---
i think you used a xbox 360 controller and some hot keys from a key bord
---
---
Of course it can. But there are in the market remarkable shortcut consoles for this. You may be interested in this project, either if you want to DIY and for you the trip is more important than the destination, or because you want to do something that the market consoles wont do. In my case, i fit in both cases. The joystick for example is not just a normal arrow key replacement. Does much more that a normal game console cannot be programmed to do. But most of all, i just wanted to do it...
---
So can a project like this be fitted towards Photoshop and Sai, since I draw with the right I want shortcut keys for the left. But need more button option.

HOT in heaven!