7 May 2010
Author: Giorgos Lazaridis
How Stepper Motors Work
---
---

Stepper motor types
---
Permanent Magnet Stepper Motor (PM)


The first and most basic type of stepper motors is the Permanent Magnet (PM). The rotor of the PM motor carries a permanent magnet with 2 or more poles, in a shape of disk. The operation is exactly the one described above. The stator coils will attract or repulse the permanent magnet on the rotor and will generate the torque. Here is a sketch of a PM motor: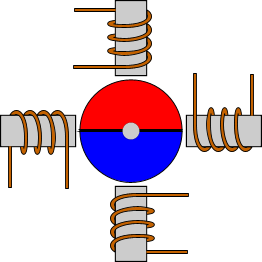 PM stepper motors have usually step angle from 45o to 90o.



Variable Reluctance Stepper Motor (VR)


The VR motor does not have a permanent magnet on the rotor. Instead, the rotor is made of soft iron, and performs a teethed disk like a gear. The stator has more than 4 coils. The coils are energized in opposite pairs, and will attract the rotor. The lack of a permanent magnet has a negative affect on the torque that is significantly decreased. But it has a great advantage. These motors have no detent torque. The detent torque, is the torque generated by the rotor permanent magnets that are magnetized to the stator's armature, when no current flows within the coils. You can easily understand what this torque is, if you try to rotate an unconnected stepper motor by hand (NOT a VR stepper). You will feel the distinctive "clicks" of each step of the motor. Actually, what you feel is the detent torque that pulls the magnets against the armature of the stator. Here is an animation of a VR stepper motor in operation: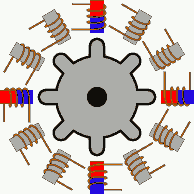 VR stepper motors have usually step angle from 5o to 15o.





Hybrid Stepper Motor


The hybrid stepper motors are named so, because they combine the characteristics from both VR and PM stepper motors. They have excellent hold and dynamic torque, and very small step angles, from 0.9o to 5o, giving them A+ in accuracy. Their mechanical parts can rotate at high speeds relatively to the other stepper motor types. This is the type of motor used for high end CNC and robots. The major disadvantage is the cost.

A typical 200 steps per revolution motor, will have 50 North and 50 South poles, with 8 coils (4 pairs). Because such a magnet cannot be manufactured, an elegant solution has been given. There are actually 2 separate disks, each one with 50 teeth. A permanent cylindrical magnet is also used. The disks are welded one on the North and one on the South pole of the permanent magnet. Thus, one disk has North pole on its teeth and the other South. The trick, is that the disks are placed in a way that if you look them from above, you will see one disk with 100 teeth! The hills of the first disk, are aligned with the valleys of the other disk.



| | | |
| --- | --- | --- |
| | | |
| A permanent magnet with 50 North and 50 South poles is not possible to be manufactured...Therefore two disks are placed on top and bottom of a cylindrical permanent magnet | | The hills of one disk are aligned with the valleys of the other. If you look the disks from above, it will be like looking a 100-teethed disk with 50 north and 50 south poles! An elegant solution! |
The following animation shows a hybrid stepper motor with 75 steps per cycle (5o per step). Worth to notice that the 6 coils are in pairs of two, each one with its opposite coil. Although someone would expect to find these pairs with angle difference of 60o, it is not so. If we suppose that the first pair is the most top and most bottom coil, then the second pair is with angle difference of 60+5o from the first, and the third 60+5o from the second. This angle difference is the reason why the motor moves! Full and half stepping can be applied, as well as single-coil excitation for power saving. In this animation i use full step drive. With half step drive, the steps are increased to 150!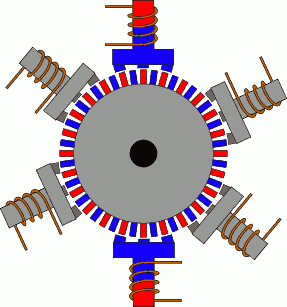 Don't try to follow the coils to see how it works. Just focus on one coil and wait. You will notice that, whenever this coil is actuated, there are 3 North poles (red) 5o back, that are pulled to the rotation direction, and another 3 South poles (blue) 5o front that are pushed to the rotation direction. The coil that is actuated is always between the North and South poles.
---
---
Comments
---
Dear sir
I request how to stepper motor connect plc and how to program in delta eh2
---
Great effort. Great explanation. I got good understanding from this. Thank you.
<a href="http://blog.poscope.com/stepper-motor-driver/"></a>
---
Dear sir,
Thank you for gave the information about stepper motor works.
I understood the principle of working with the help of animation.
Regards,
G.Parthiban, Kalpakkam.
---
Awesome, thank you. I did find it just a bit slow for me but that is because I knew some of this before coming here.
That said it has given me a great deal of new knowledge and insight that will help me connect up my first stepper motor and have it actually work.
Thank you again.
---
thanks for this great stepper motor explanation.
---
It was so great.
Thank you
---
Got so much from this article, but is there a typo?
It is written:

Unipolar motor

In a bipolar motor, a common wire is connected to the point where the two coils are connected together:


Should it be "In a unipolar (not bipolar) motor" instead?
---
It was very helpful to me to know about steppr motors.Nice web site,Do more.Wish you all the best.
---
This article explains the complete working of a stepper motor which is very easy to understand.
---
i want to learn about the embedded systems
---
i actually like this article. it is highly educative for me. pleas more of this type
thanks
---
Simple and easy to understand tutorials. The animation videos are very helpful too ! Thanks a lot.
---
Great tutorial! I suggest you slow the animations down, perhaps leaving a 3 second interval between steps. As it is now, it is visually difficult to keep up with each step of the sequence and study how the current flows through each winding.
Thanks for your efforts.

Carl
---
thank you very much my friend
---
Great explanations! Thanks for good work!
---
amazing presentation
i salute! :)
---
WoW. Highest respect Sir!
---
Great effort. Great explanation. I got good understanding from this. Thank you
---
my stepper motor does not spin. Using reprap Arduino board ramp v.1.4 and stepper driver G3D stepper driver pololu compitable. Can you help me?
---
---
Fantastic explanation!!!!!
---
Great effort. Great explanation. I got good understanding from this. Thank you.
---
Dear Giorgios,
Fantastic explanation and didatics! I disassembled a disquette drive and found a very strange looking motor inside. Now I know it`s a stepper motor. Could you please inform with what software you designed the 2 demo videos?
---
---
thanks alot for your useful information>>thank you
---
Very nice and clear explanation with excellent animations. Thank you
---
Thanks for sharing.

very good material!
---
---
step sequence given for half stepping and full stepping in Mazidi book different than what shown in animation.
---
It was very helpful to me to know about steppr motors.Nice web site,Do more.Wish you all the best
---
---
thanx for this introduction!
some further readings?...
---
Thank you very much.You done very detail information.And very good video tutorial.Keep up the good work
---
its really good to understand! thanks for given like this....!
---
animation speed should be low.... for easy understanding... and what pulse on which coil is given should me marked on each coil...

rest animation is good.. :)
---
Well written. Easy to understand and a great source of information.
---
thankyou for the basics!!
---
u got skill's..nice stuff.

editing could have been better
---
---
excellent job well done keep it up
---
Thanks for the explanation, it was concept based
---
very helpfull thank you so much
---
Thanks for the clear cut explanation the animation is really awesome and i found most of the total concept here thanks once again
---
---
Are these images in full-step (4th picture) and half-step (5th and 6th picture) on page 1 for a bipolar motor?
---
---
I have a bunch of stepper motors that have failed. When installed in the machine they just vibrate back and forth. I know it is the motor because when I put in a new motor they machine works just fine.

Do you think there is anyway to repair these stepper motors?

It is a Hybrid .9 degree NEMA 23. Do you think a coil shorted or is it something to do with the magnetism? Or??
Thanks
Russ
---
Your explanation makes this so clear...Thanks!
---
u explanation is just awesome.thanq for giving valuable inf.
---
First class presentation.Keep up the good work. We need more people like you to educate our students. Thank you
---
@Ajitkumar H Vyas I explain the differences in page 3 of this guide (http://www.pcbheaven.com/wikipages/How_Stepper_Motors_Work/?p=2)
---
VERY GOOD PRESENTATION FOR BASIC CONCEPT FOR STEPPER DRIVE.
PLEASE GUIDE US FOR BIPOLAR STEPPER DRIVE & UNIPOLAR DRIVE.
IS BIPOLAR DRIVE WORK ON UNIPOLAR.
WHAT IS THE DIFFERENCE IN BIPOLAR & UNIPOLAR

YOUR GUIDE LINE IN THESE MATTER WILL BE HGIHLY APPRECIATED.
---
Your explain are easy to understand.Thank you.
---
OK that animation mid-page on the right finally clicked in for how real steppers work and how you can get to smaller steps. All the beginner diagrams only show 4 poles and compass style rotors with giant 90 deg steps. that animation is fantastic, thanks so much!
---
---
Only one word.........."""EXCELLENT"""
---
@Vimee Bakori first disconnect completely the wires from the motor. You will need either 4 multimeters, or 4 LEDs or other source of light. Then , you must see between each of the 4 wires and the ground a pulse. The pulse must follow the pattern of a full or half step as explained in this article.
---
It was just osum !!
Thank you!!
---
Good Day and Many Congrats for your presentation!

One question pls...
In a step motor with 4 wires (1=R, 2=S, 3=T AND 4=COMMON ),
how can measure by multimeter the voltage in order to understand if signal is correct?
i.e. I can measure sometimes 31V Only to one of three cables, or only to 2 of 3, or to all 3 cables...

How is the constraction of 4 wire motor with common ?

Really appreciate your comments.

Many Thanks

Brgds
I.K.
---
---
You definitely were born to be a teacher. What a great elementary style tutor in stepper motors. I actually understand how they work now. Something I thought I would never understand.

Thanks.
---
Very Well Explained !!

Excellent work. Keep it up :) . .
---
NICE EXPLANATION GIORGOS.. ONLY NEED DON'T SPEACK TO FAST , ALSO YOUR NICE ENGLISH.
BEST 73 DE MARIO IV3ZDL
---
thanks alot for this excellent information
---
Thanks a lot...because it is much more understandable than my bulky books.....
---
Thanxxxxxxxxxxxxxxxxxxxxxxxxxxxxxxxxxxxxxxxxxxxxxxxxxx :D
---
Thank you for taking the time to produce the information in your video. I found it very informative and look forward to future posts.
---
very good information...thank you very much...i really understrood what are the step motors are...
---
Great explanation ...thanks
---
i like these explanations any one can understand these well sone
---
good explanation.Thanks a lot...
---
Thank you very much for the videos.

Finally someone was able to explain the concept to me in a way that I understand, by showing me the breakdown to construction level.

Merci
---
@Stefan no, currently not, i am not making any CNC, i have enough CNCs from my day job :). But if i feel like doing it in the future i might make one.
---
Are you making a CNC project?For example with PIC microcontroller and interface on PC.Can you make a project like that?
---
@Stefan
1. Depends on the stepper. For example, one stepper may have 5 ohms coils. Then, you will measure 5 ohms between the sides of the coil, and 2.5 ohms between one side and the middle wire.
2. You don't need to recognize them, they are bipolar motors. Only bipolars have 4 wires.
3. As i said in point 1, a 5 (or 6) wires motor has 2 coils. So, you must find one big and one small resistance between the coils. When you measure the resistance and you find the "big" resistance, then you are sure that you are holding the ends of the coils. Now be careful!!! If the motor has 5 wires, this means that the middle coils are internally connected! What this means is that you may find a big resistance between the ends of ONE coil, or between the ends of the 2 coils!!! That will trick you. No matter what, big resistance comes only from end-side of coils. Small resistance (which is half the big resistance) means that one wire is the middle.
---
Hi there,very good explaining about the stepp motors and how they work.I have 3 questions about them.
1.If I messure resistance on the coils,what I will get?
2.I have 2 stepp motors,they have 4 wires.And how can I recognize them?
3.The common pin how I can recognize it from the others,is there any resistance or something like that so I can recognize it?
Thank you
---
I really appreciate your presentations. I happen to be a experimental biologist student, and wanted to understand dc and stepper motors so i could understand what is to be believed the mechanism of bacterial flagella.

well done!
---
---
how to we design this motor ..... tell me please
please give us deteal
---
Many many thanks..

Presentation is too good
---
Your information is priceless.
Don't worry about your accent, should someone not like it they can look elsewhere for the knowledge they seek.
Thank you.

George
---
este site é SHOW DE BOLA! Aqui no brasil tem uns caras que copiam de voces e para mostrar traduzido cobram os OLHOS DA CARA! Só DEUS pode pagar esse carinho e disposição de graciosamente mandar para o mundo todos esses artigos. a voces um grande o b r i g a d o!
---
what did you use to produce these brilliant animation please
---
Bravo it was just osum !!
Keep the good work..........
Your accent is not that bad as long as it conveys the right meaning.
---
@Terje damn i saw your post in the forum and totally forgot to answer. I will answer in the forum asap.
http://pcbheaven.com/forum/index.php/topic,1159.0.html
---
How do you find the correct stepper motor for you're project?

I have a 4kg platform that I want to drive vertical, and to be able to stop and hold anywhere on it's path.

Accuracy is important as well as repeatability. (do the same travel over and over again)
---
---
excellent work buddy...you explained every small part...
---
---
You explained what wikipedia and all of the other sites could not and did it in a way that I could easily understand. Thank you
---
hy dear i am Naseer.and i like your work very much.bcz i learn alot from thes lectures and videos...
---
Spectacular presentation, that really explains *everything* for a newbie like me. Thanks!
---
Very good and very clear!!
---
Taking the time to explain step-by-step using the videos makes understanding the basic concept easy.

Muy bueno, well done!

HOT in heaven!